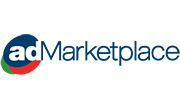 Account Executive
About adMarketplace
With 20 years of search marketing expertise our goal is to add value to every search. On the simplest level we are the largest consumer search technology platform outside of Google and Bing. adMarketplace deliver incremental search traffic across native channels, including mobile apps, consumer sites, and browsers. Our technology enables audiences to skip search results pages and navigate directly to trusted sites in moments of intent. As well as driving incremental reach we are also market leaders in terms of privacy and performance.

The Role
We are looking for competitive, energetic, business savvy and motivated people who want to jump start their sales career by building the foundation of what it takes to be a top sales performer.
Account Executives are driven individuals who focus on generating and qualifying new business opportunities for our sales team. We are looking for individuals that love building relationships and will carry out account based research to identify and connect with top decision makers.
Successful candidates must have a strong work ethic, passion to be part of adMarketplace, and the drive to not only meet but exceed sales targets. You will learn from the best by working alongside top performers on our sales team, along with sales leadership. Self-motivated individuals looking to build a solid foundation in sales are an ideal fit for this position.
What You'd Do:
Prospect and identify clients to contact via email outreach, LinkedIn and networking events
Research prospects and identify stakeholders in order to generate interest and create rapport
Manage expectations and overcome objections
Maintain an organized pipeline and activity records using Salesforce
What We'd Like:
Bachelor's degree; 1-4 years of professional experience
Strong interest in building a career in sales
Entrepreneurial mindset; eager to advance through clearly defined learning paths
Self disciplined, organized and ambitious; able to consistently hit daily and monthly objectives
Go-getter attitude that displays initiative and persistence, all with a competitive drive
Positive and energetic attitude with exceptional communication skills
Resilience, perseverance, and the ability to overcome objections a must
Ability to work in a high-energy, sales-team environment
---