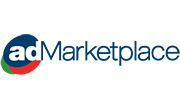 Senior Data Engineer
About adMarketplace:
adMarketplace is the largest privacy-safe consumer search marketplace. We provide search advertising integrations for trusted mobile apps, browsers, browser applications, and consumer sites to connect consumers directly to top brands at the moment they express decision-making intent.
We are dedicated to improving the search experience for consumers, publishers, and advertisers without sacrificing privacy. Our mission is to add value to every search with our experience building and operating innovative consumer search technology.

Growing Company. Small Dynamic Teams. Real Impact.
At adMarketplace, we create best of breed consumer search technology using cutting-edge architectures with millisecond response time and crunch through terabytes of data every day. The ideal candidate is motivated to design for massive scale, developing for low latency and pushing the boundaries of using real-time data in automated decisions. Our team uses a modern tech stack including Kafka, Spark, Scala, Akka, Java8+, NoSQL, Kubernetes, Docker, AWS, Azkaban and Airflow.
Responsibilities:
Hands-on development and maintenance of ad-tech related data systems and system components using Java and other software technologies

Data streaming, processing, and aggregation solutions
Data-driven applications
24/7 low latency large-scale distributed systems
Cloud migration and containerization projects
Clients integration automation components (Google, Amazon, LiveRamp)

Work with team for technical implementation of Data Engineering projects, including data streaming and aggregation pipelines
Work closely with QA, DevOps, and other engineering teams to integrate, test and release different system components (all stages of SDLC)
Solve complex technical challenges related to low latency large scale distributed systems
Work closely with business stakeholders and other engineers on understanding and translating business requirements into technical solutions
Requirements:
BS in Engineering, Computer Science or related discipline
Must have 3+ years strong hands-on development experience using Java (Java 8+ preferred)
Experience with big data and streaming technologies like Apache Kafka, Apache Spark, Confluent Platform, Apache Storm, Hadoop and Zookeeper
Experience developing, delivering and maintaining scalable data streaming and aggregation pipelines
Experience with relational SQL and NoSQL databases
Ability to collaborate with multiple teams and understanding testing, hardware and deployment methodologies
Good understanding of object-oriented design patterns and effective use of data structures
Familiarity and hands-on experience with profiling, code efficiency, and testing/release concepts
Experience working in a Linux environment
Experience building software in continuous integration and delivery fashion in an automated way
Excellent documentation, communication, and troubleshooting skills
Is a plus:
Experience with data pipeline and workflow management tools like Airflow, Luigi, Azkaban
Experience with AWS, RabbitMQ, MySQL, Vertica, and Aerospike
Experience with Spring or another dependency injection framework
Familiarity with Docker, CI/CD and Microservices
Scala and/or Python development experience
Experience working in an agile software development team using Jira
Digital advertising industry experience
Join Us:
adMarketplace is named as one of the best places to work in New York City by leading publications such as Built In and Crain's. We embody our core values and culture day in and day out. Our 5C's define how we play the game - Curiosity, Collaboration, Creative Conflict, Commitment and Competitiveness. We're looking for curious, dedicated, and collaborative individuals who play to win.
adMarketplace offers competitive salaries, continuing education programs, management training, and career paths to ensure all of our employees have an opportunity to grow.
The well-being of our employees is our top priority, adMarketplace offers competitive health benefits, wellness programs, paid time off, commuter benefits, equity, 401k matching, and more to ensure a healthy work/life balance.
---