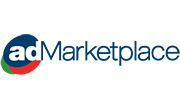 Corporate Counsel (digital media)
About adMarketplace
With 20 years of search marketing expertise our goal is to add value to every search. On the simplest level we are the largest consumer search technology platform outside of Google and Bing. adMarketplace delivers incremental search traffic across native channels, including mobile apps, consumer sites, and browsers.

Our technology enables audiences to skip search results pages and navigate directly to trusted sites in moments of intent. As well as driving incremental reach we are also market leaders in terms of privacy and performance.
What You'll Do:
Work closely with CEO and report directly into the President/COO
Manage external counsel, mitigate legal costs and general litigation
Review and manage general contracts, third-party agreements and vendor/supplier relationships

Manage and organize all corporate matters such as equity plan administration, patents, board decks, etc.

Assist management with employment law concerns and company policies in conjunction with Human Resources and Finance

Provide legal counseling to senior management on matters such as business strategic planning, claims and disputes, contracts with suppliers, licenses, and protecting intellectual property

Understand and ensure company-wide compliance with privacy & data protection laws and self-regulatory organizations such as the GDPR and CCPA

Give accurate and timely counsel to executives in a variety of legal topics
Apply effective risk management techniques and offer proactive advice on possible legal issues
Provide clarification on legal language or specifications to everyone in the organization
Maintain current knowledge of alterations in legislation
Act as a liaison with the Board of Directors, including preparing the Board Package for Board Meetings
Qualifications:
Excellent knowledge and understanding of corporate law and procedures; International experience a plus
Business savvy in media; experience in either digital advertising and/or digital media preferred
5-7+ years experience highly preferred; ability to practice in NYC
High degree of professional ethics and integrity
Hands on, roll up your sleeves mentality
Sound judgement and ability to analyze situations and information
Outstanding communication, organization and prioritization skills
Join Us:
adMarketplace is named as one of the best places to work in New York City by leading publications such as Built In and Crain's. We embody our core values and culture day in and day out. Our 5C's define how we play the game - Curiosity, Collaboration, Creative Conflict, Commitment and Competitiveness. We're looking for curious, dedicated, and collaborative individuals who play to win.
adMarketplace offers competitive salaries, continuing education programs, management training, and career paths to ensure all of our employees have an opportunity to grow.
The well-being of our employees is our top priority, adMarketplace offers competitive health benefits, wellness programs, paid time off, commuter benefits, equity, 401k matching, and more to ensure a healthy work/life balance.
---