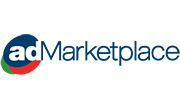 Director of Publisher Solutions
About adMarketplace
adMarketplace is the largest privacy-safe consumer search marketplace. We provide search advertising integrations for trusted mobile apps, browsers, browser applications, and consumer sites to connect consumers directly to top brands at the moment they express decision-making intent.

We are dedicated to improving the search experience for consumers, publishers, and advertisers without sacrificing privacy. With 20 years of experience building and operating innovative consumer search technology, our mission is to add value to every search.

What You'll Do:
Proven ability to close new business and forge new publisher relationships with the 'right' decision makers.
Actively participate in all phases of account maintenance and development and work with internal Account Management and Ad Operations to ensure client satisfaction.
Participate in industry events and conferences.
Add value by building strategic partnerships within the following target areas:
Content and Editorial
Mobile Carriers
Affiliate

Browsers and ISP's
Qualifications:
Bachelor's degree; 4-7+ years of experience building online publishers development deals
Having existing relationships with digital publishers is a plus
Highly analytical with the ability to assess business opportunities
Ability to include multiple partners and members of the management team, using competitive selling to position company products against direct and indirect competitors
Strong negotiating skills
Demonstrated ability to find, manage, and close high level enterprise business
Entrepreneurial, ambitious and passionate
Knowledge of pay-per-click advertising and search engine marketing a plus
Join Us:
adMarketplace is named as one of the best places to work in New York City by leading publications such as Built In and Crain's. We embody our core values and culture day in and day out. Our 5C's define how we play the game - Curiosity, Collaboration, Creative Conflict, Commitment and Competitiveness. We're looking for curious, dedicated, and collaborative individuals who play to win.
adMarketplace offers competitive salaries, continuing education programs, management training, and career paths to ensure all of our employees have an opportunity to grow.
The well-being of our employees is our top priority, adMarketplace offers competitive health benefits, wellness programs, paid time off, commuter benefits, equity, 401k matching, and more to ensure a healthy work/life balance.
---