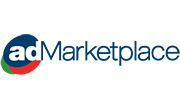 Senior Account Executive
adMarketplace is the largest consumer search technology platform outside the major engines. We power consumer search on native channels including mobile apps, consumer sites, and browsers. Our technology enables audiences to navigate directly to trusted sites in moments of intent.
We recently launched our new market-disrupting product "Conducive Instant Search" which allows consumers to skip the SERP and take them right to where they want to go. Click and Go!
Come join our beautiful new offices near Bryant Park, team outings, catered lunches, fully-stocked kitchen, game-room and some of the best colleagues in the industry! If you want to be a part of an innovative, growing and forward-thinking company, adMarketplace is the place to be.
Responsibilities:
Strong sales hunter capable of connecting with and gain interest from decision-makers who control $3m in advertising budget.
Excellent communicator - verbal and written - thrives on selling into complex and dynamic organizations across a broad spectrum of industries including senior-level brand marketers, performance advertising executives, and data analysts.
Consultative/Solution approach, pitching solutions not products, and comfortable securing from prospective clients' ad budgets, market goals, and performance tracking data assets.
Strong objection handler, with agility to think-on-feet for scenario-based solutions.
Conducts substantial research on clients to bolster outreach and pitches.
Relationship-builder comfortable with sales cycle of more than two months and seizes the moment to close.
Can understand and carry-forward our product offering and position in the digital advertising industry, representing our company at industry conferences and events, to win new clients.
Able to customize your pitches as sales presentation decks.
Collaborates across in-house departments to ensure your clients' ongoing and often changing needs are continuously met.
Maintain accurate and updated CRM data via Salesforce.
Opportunities:
Strong base salary + aggressive commission plan
Pitch a results-oriented solution to the largest brands and their digital agencies
Work with Fortune 300 partners in the Auto, Travel, Retail, Telecom, Finance, and Insurance verticals
Up to 20% travel. Some international travel is possible
Requirements:
At least 5 years as a top performer in B2B enterprise sales, pitching to AVP-level and above
Proven winner with a deep desire to close big deals and earn large commissions
Data-savvy and comfortable discussing technology
Strong prospecting, presentation, and relationship building experience
Proficient in Microsoft Office (Word, PowerPoint and Excel) and bonus if also comfortable with Google Slides and CRM via SalesForce
Will be a quick-study on the search / pay per click / performance advertising market, as well as its dovetailing with brand marketing
Ask tough, thoughtful questions and be relentlessly competitive with a strong sense of urgency
Highly analytical mindset
---